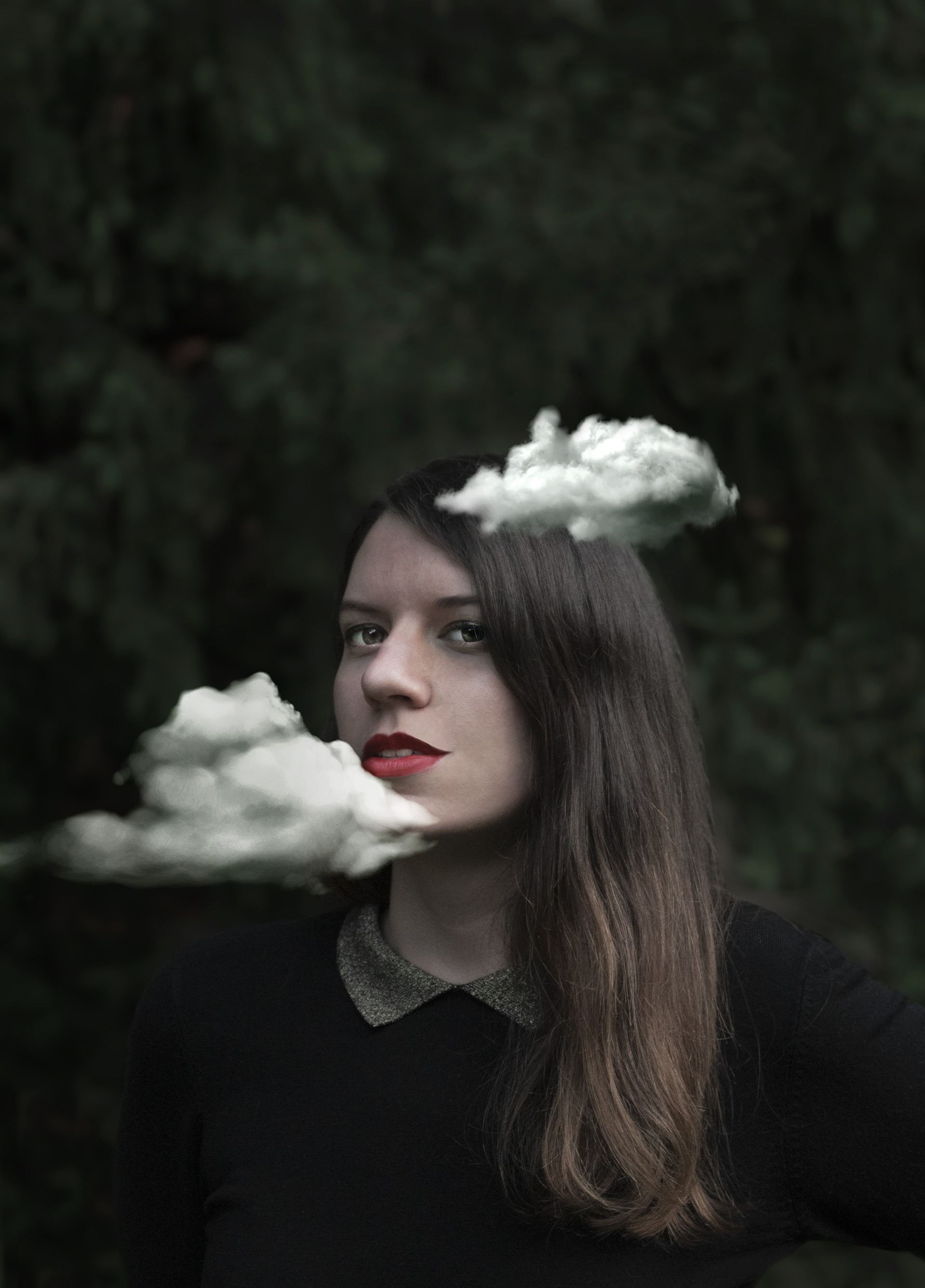 I imagine alternate realities through photography, digital retouching and drawing. 
In my work, I like that everything is thought out, that the whole is harmonious, sublimated to create photographs that are as realistic as possible, while opening the door to new visual metaphors. 
This allows me to achieve a certain vision of art to which I aspire and also to channel certain emotions and sublimate them, like an autobiographical reflection to be explored through self-portraiture.
Through photo manipulation, I create surreal images focused on identity, relationships, emotions and dreams, to capture both the complex strength and fragility of the human psyche.
In my work, I stage the female body, exploring questions of female representation and the relationship between body and self.
Sometimes people ask me why I distort reality with my photos and why I don't follow the traditional idea of ​​photography. But why settle for the ordinary if we can achieve the impossible?
Charlene Planche is a Surreal Photographer. 
Born in 1994, she grew up in a small town called Clermont-Ferrand in the middle of France.
Self-taught in both photography and retouching, her interest in surreal photography begins at the age of sixteen, when she wins a national photography contest with its all first photomontage.
Graduated from ENSASE in 2018, Charlène devotes herself for two years in graphic research, inspired through travels and his experience in the associative environment, the confrontation with other realities.

From there, and following the first confinement due to the pandemic, she begins art photography and fell in love with the process and the possibilities of the digital medium.
His gaze is directed towards creations mixing portrait and staging, trying to see how far
transform reality while remaining at the service of narration and the emotions it seeks to provoke.

Charlène worked as a graphic designer and artistic director before embarking on the
art world.
Today, she works as a photographer in her own right on personal projects and
commissioned work. She also does unusual projects such as anamorphic scenographic installations, where she loves challenges and playing with people's perception and what we think we are reality.

Charlène's work has been exhibited and published internationally.
Recently, his series "Au fils du chemin" is exhibited in the city's permanent collection.
by Renage. In September 2022, the Festival du Premier Film d'Annonay commissioned a creation dedicated to representation of their 40th edition.
At the end of 2022, she holds her first personal exhibition "From one world to the Other" in Lyon. In 2023, she is one of the 21 artists invited for the Agapè exhibition, a double exhibition in resonance in the Art Show and Bohosphere art galleries.
Charlene currently resides in Lyon, France.